Anac
*new*
14.05.2018 16:29:28 ( 100384 )
https://www.youtube.com/watch?v=2_qOmKyPGB4&index=25&list=RD7MiXHPWokF4
Published on Sep 13, 2017
This week London will be used once again as a death market for dictators and autocrats, who congregate every two years to buy weapons at the world's biggest arms fair - Defence and Security Equipment International (DSEI). These people are profiting from pain and loss, they're arming authoritarian regimes and human rights abusers. The abusers are buying weapons, they're buying political support and they're buying legitimacy for their atrocities. The death market is organised by Clarion Events, backed by the UK government and provides a platform for hundreds of arms companies including the biggest and the baddest: Lockheed Martin, BAE Systems, Raytheon, Northrop Grumman, General Dynamics, Leonardo, L3 Technologies, Thales, Rafael and Elbit Systems... this is another fine example of profit before people. I hope that the not so distant future generations will be sitting on their once-state-of-the-art-now-decrepit war machines making tunes. Please check the links below for more information. L, O, V, E and trample hate.
29.06.2018 17:00:00
OakFest 2018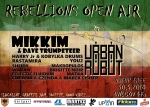 30.06.2018 15:00:00
Rebellions Open Air 2018
01.07.2018 17:00:00
Rebellions v ÍRÁNU ???